Boost hydration through an irresistible candy
Jelly Drops are an innovative sugar-free treat, made of 95% water with added electrolytes & vitamins, designed to increase fluid intake.
Popular with people with dementia, the elderly & others who struggle to stay hydrated.
Buy Jelly Drops

"They have changed her life"
- Mrs J Powis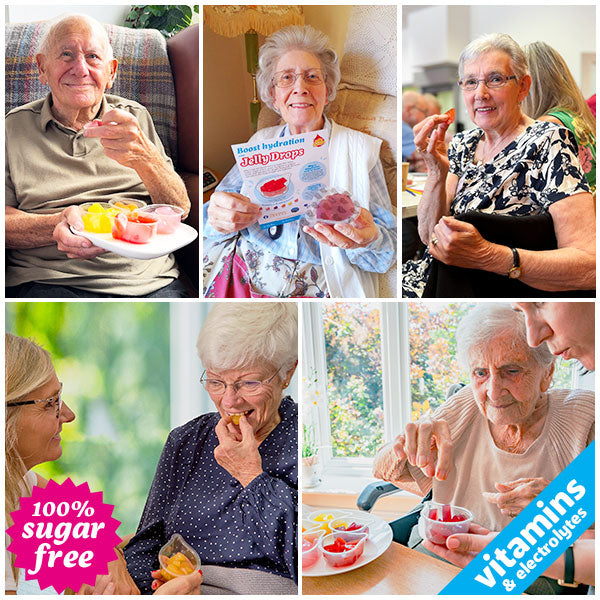 Jelly Drops are award-winning candy designed to boost hydration. They're 95% water, sugar free & vegan with added electrolytes & vitamins.
Inventor Lewis Hornby was inspired to create water candy after his grandma Pat, who had dementia, was struggling to hydrate.
With a fantastic solid, but smooth, texture - these candies do not have a liquid centre - encouraging independent hydration for all, through a delicious snack.
Sugar-Free


(No Laxative Effect)
6 Flavors


(Naturally & artificially flavored)
Supporting Health & Hydration
Aids Brain Function
Contributes to normal cognitive and mental performance
Boosts Energy
Benefits energy levels, fighting tiredness and fatigue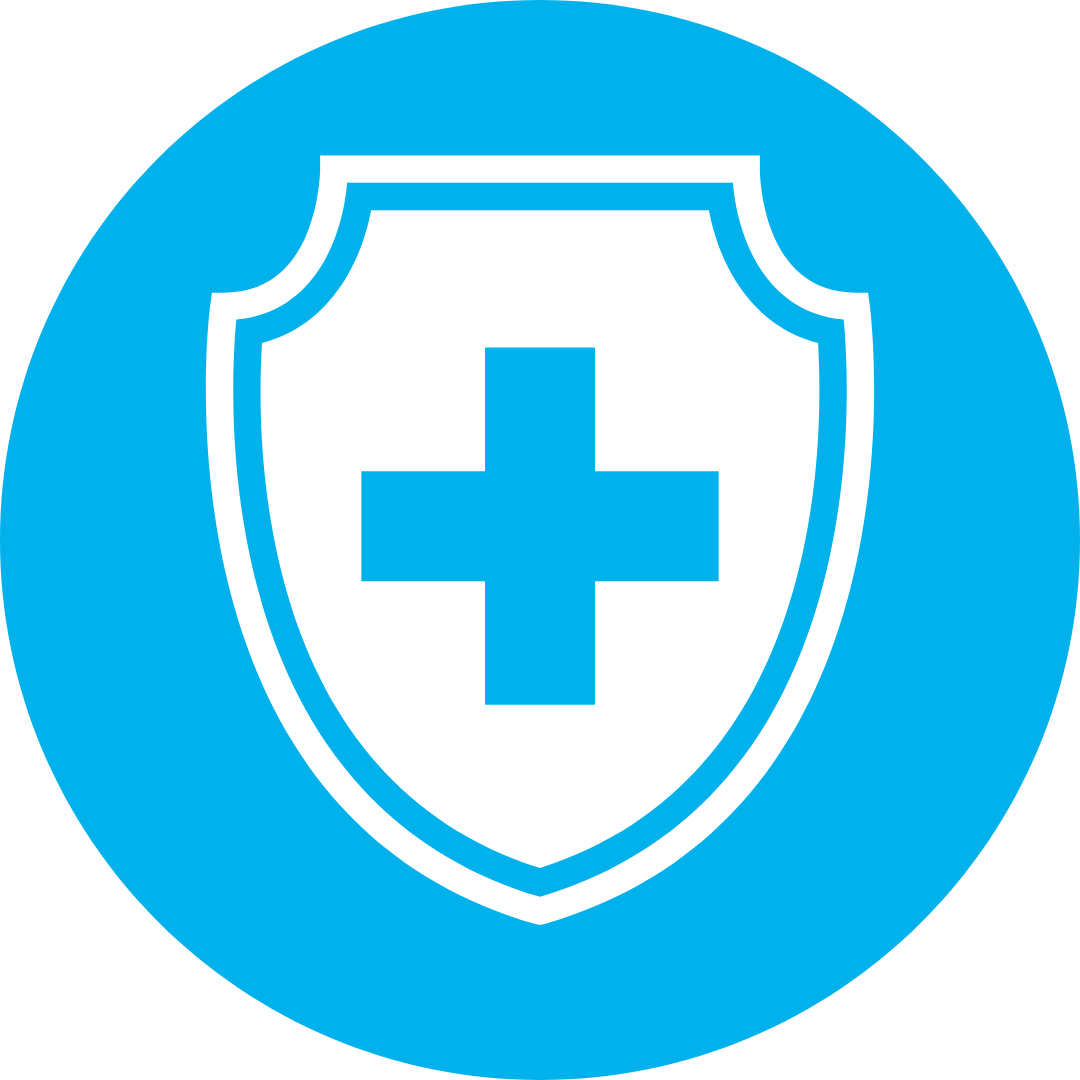 Supports Immunity
Helps maintain a normally functioning immune system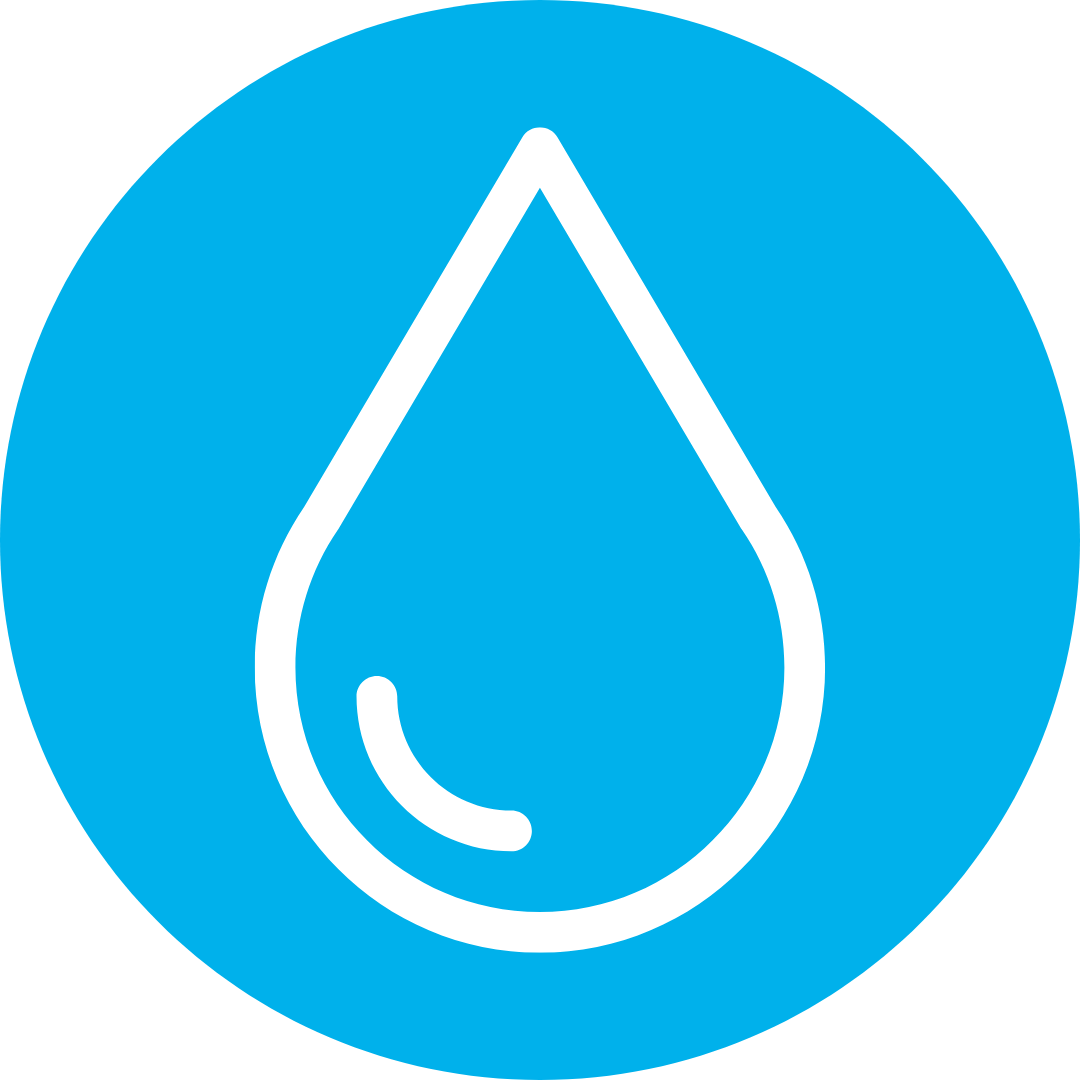 Helps Hydration
Provides easy additional fluid and electrolyte intake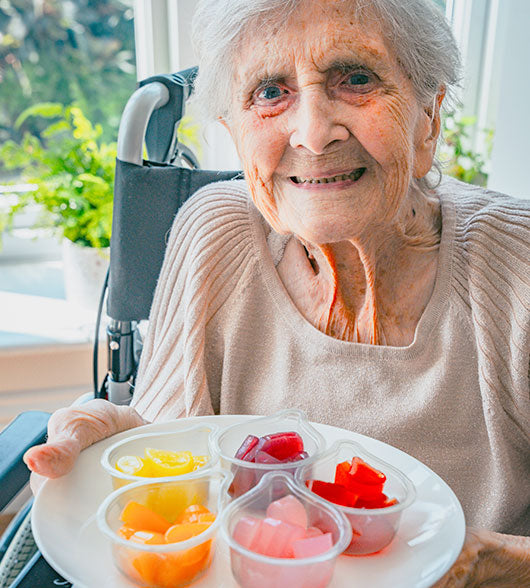 "I cannot thank you enough for making these. They have changed her life"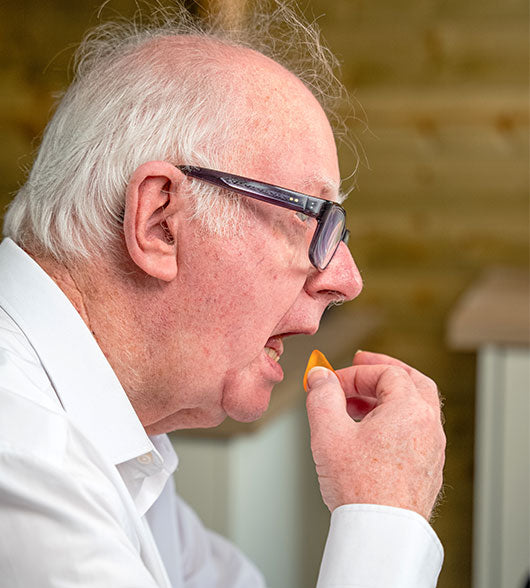 "Thank you for being part of an invention that will be an absolute godsend"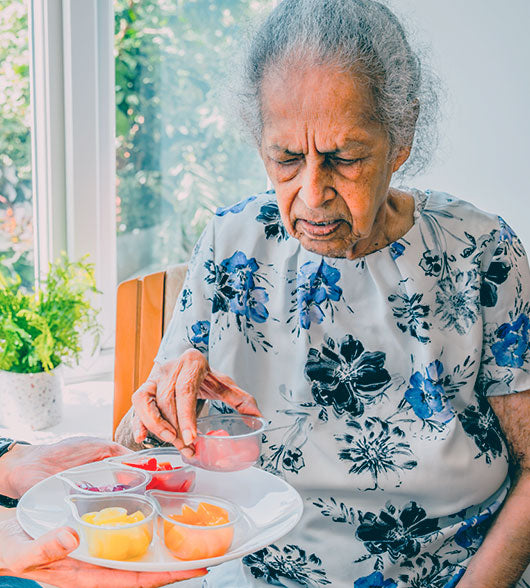 "She's tried the new drops & loved them - they're super tasty, fruity and delicious"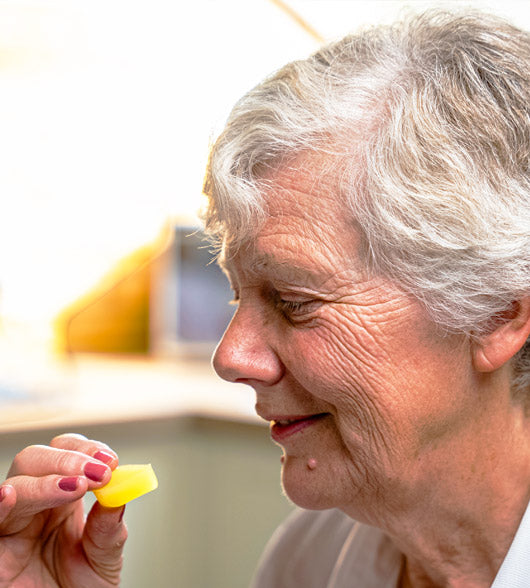 "My Nan has moderate stage Alzheimer's disease and she ate 3 in 5 mins!"
Designed for Dementia, Loved by All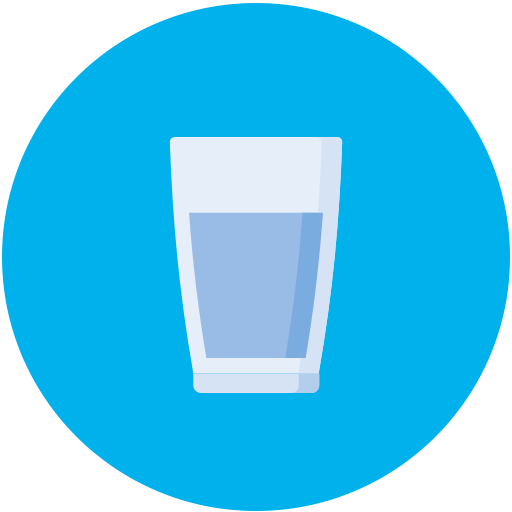 Tackling a major dementia struggle
From the inability to hold cups to not equating thirst with drinking, it is often hard to ensure loved-ones do not become dehydrated.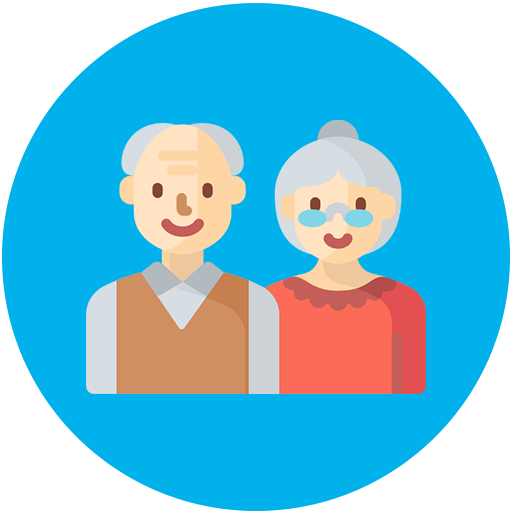 Improving quality of life
Our innovative solution makes boosting water intake easy & enjoyable. Saving carers' time & giving people with dementia an irresistible treat.
Helping many others
Jelly Drops are not just for dementia, being well-loved by a wide range of people who struggle with hydration or just want a healthy snack.








When Pat, our founder Lewis's grandma, was rushed to hospital with severe dehydration, he was told to prepare for the worst. Pat, who had dementia, thankfully made a full recovery, but Lewis was left wondering how something so small could have a potentially life-threatening impact.
Lewis spent a month in his grandmother's care home to try and find a solution. Consulting with doctors and speech and language therapists, he spent 18 months testing and developing the product you see today.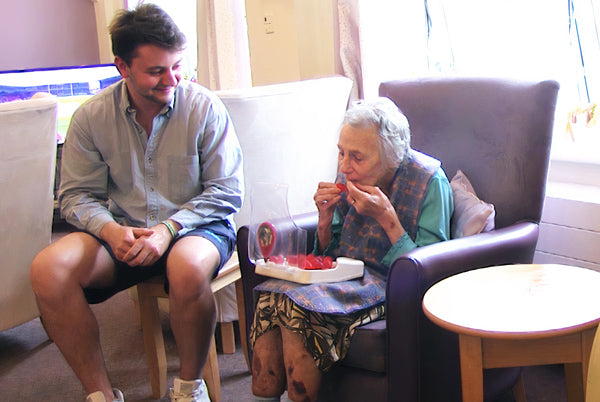 Proud Partners of the Alzheimer's Society
We were delighted to be selected for the prestigious Alzheimer's Society Accelerator Programme for dementia innovation, allowing us to learn from people affected by dementia, to ensure that Jelly Drops are the most effective that they can be.
We are now proud to be able to give back to the Alzheimer's Society's important work, with 1% of profits from every box sold going directly to them.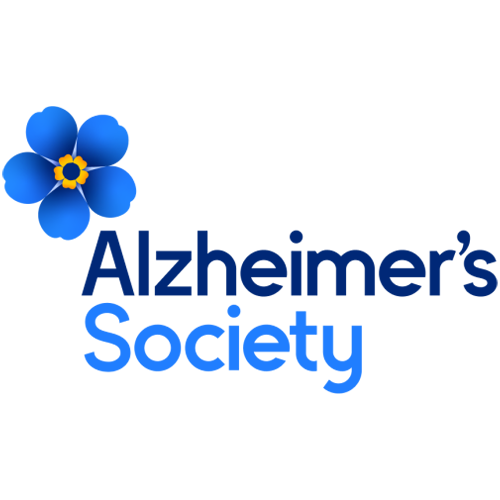 Nutrition Facts
Serving size 1 single pack (55g)
Amount Per Serving

Calories

10

% DV*
Total Fat 0g
0%
Sodium 40mg
2%
Total Carbohydrate 2g
1%
Protein 0g
0%
Vitamin B6 0.28mg
15%
Folate 68mcg DFE


(40mcg Folic Acid)

15%
Vitamin B12 0.50mcg
20%
Not a significant source of saturated fat, trans fat, cholesterol, dietary fiber, total sugars, added sugars, Vitamin D, calcium, iron, potassium.
Each single pack (55g) contains:
of an adult's reference intake
Ingredients: Water (95%), Maltodextrin, Gellan Gum, Xanthan Gum, Locust Bean Gum, Acacia Gum, Agar-Agar, Lactic Acid, Citric Acid, Malic Acid, Potassium Sorbate (to maintain freshness), Natural Flavors, Turmeric (color), Black Carrot Juice (color), Sodium Benzoate (to maintain freshness), Salt, Potassium Chloride, Trisodium Citrate, Sucralose, Pyridoxine Hydrochloride, Folic Acid, Cyanocobalamin.
Frequently Asked Questions
Jelly Drops have many properties that are perfect for those looking for a healthy snack. Not only do they contain 95% water with added electrolytes and vitamins, helping to boost fluid intake, but they are also sugar-free, contain no artificial colours and are vegan. A delicious snack, many of our customers find them a perfect sugar-free alternative to traditional candy.
Even though they are made of 95% water, Jelly Drops don't 'burst' or have a liquid centre as you may expect. We've specifically made them with a solid texture, but one that is still super easy to chew, unlike other candy such as jelly beans or fruit gummies. Many people describe them as being a similar texture to traditional trifle jell-o.
Currently, we only recommend Jelly Drops to people without swallowing difficulties. If you have swallowing difficulties, please consult a Speech and Language Therapist prior to use.
Jelly Drops are made of 95% water, meaning that each 6x pack contains 10oz water. Many people find this the perfect way to increase fluid intake throughout the day, without relying on drinks alone.
We work with a range of businesses in the care and health sectors, from carers and care homes to hospitals. If you are interested in placing a discounted bulk order, helping to promote Jelly Drops to your clients or otherwise partner with us - please check out our business portal.
Jelly Drops are available to buy online through the Jelly Drops shop for home deliveries in the UK, US and Canada. We would love Jelly Drops to be available everywhere eventually. If you sign up to our waiting list here, and select your country, we will always make sure you're the first to be invited during our early-access period.
Jelly Drops are made of 95% water, providing a boost in fluid intake for those with dementia who struggle with hydration.
They come in a range of bright, eye-catching colours and are presented in a uniquely designed transparent container, which help the candy attract attention from people with dementia, who may otherwise forget about them.
Both the innovative packaging and the shape of the candy themselves, allow them to be easily accessible, even for those who are less dexterous.
This helps encourage an enjoyable habit of healthy snacking, which many find to be easy and enjoyable.
As a delicious candy however, they do not just have to be eaten by those with dementia, but can be enjoyed by all!
Jelly Drops are now available for orders in Canada! Please find out more information on our Jelly Drops Canada website.
We would love for Jelly Drops to be available all around the world eventually. Although we do not have specific dates we can confirm yet, if you sign up to our Early Access Waiting List, you will be the very first to be invited when we launch in your country.
Get exclusive offers & discounts
Join our mailing list to follow our story & be the first to hear about our latest offers.